PIONEER
White Horse Motors are an Authorised Pioneer Dealer meaning we can offer the highest quality audio solutions and technology upgrades for your vehicle. What's more, we can install your new Pioneer head unit or Audio System into your vehicle for an affordable cost so that you can drive away from our Dealership with it set up and working.
---
Head Unit Upgrades
Satellite Navigation by Pioneer. High-end built-in navigation systems with large 24-bit True Colour Clear Type Resistive Multi-touchscreens and perfect fitments to your vehicle to give a factory finish. Also enjoy Apple CarPlay wireless, Android Auto, Waze, Bluetooth and DAB+ Digital Radio (Digital Radio Tick Mark approved). Furthermore, dual USB and Dual camera input is also included, as well as superior audio and video.
---
Vehicle Specific Systems
Pioneer has a variety of different solutions for having a seamless receiver integration for Volkswagen's, Fiat, Smart, Skoda, Ford, Renault, Peugeot and Citroen. The Vehicle Specific Systems offer high-end navigation (NAVGATE EVO), extensive Apple CarPlay & Android connectivity, as well as outstanding audio/video performance, all smartly combined in a single, easy to use package.
---
Smart Unit Receivers
Enjoy all the conveniences of the Pioneer range of Smart Unit Receivers, by simply using the Android tablet mounted in the receiver in your car or campervan, or even detached at home or anywhere else in the world. Use one of the pre-installed apps or download an app you like thanks to the open Android platform. Finally, easily access many useful features while on the road thanks to the pre-installed Pioneer Smart Sync app, enhancing both the quality of in-car entertainment and the level of safety. Enjoy your drive-more than usual.
---
Apple CarPlay
Our Pioneer Apple CarPlay range offers an intuitive interface on a large multi-touch screen. It's the innovative, safer and more exciting way to use your iPhone in the car. Apple CarPlay gives iPhone users an easy way to make calls, use Maps, listen to your favourite music and access your messages with just a word or a touch.
---
Android Auto
With Android Auto, you can easily and safely access apps and services in your car. Via the simple and intuitive interface or voice commands, you can browse and stream music or engage Google Maps for navigation and live traffic information without taking your eyes off the road.
The Android Auto software extends the Android platform into the car in a way that's purpose-built for driving and automatically brings you useful information and organises it into simple cards that appear just when they're needed. It's designed to minimise distraction so you can stay focused on the road ahead.
---
Speaker Systems
Speakers are the only part of your car entertainment system you can actually hear. This is why upgrading your existing speakers mostly results in a significantly improved sound quality. Pioneer's track record as a loudspeaker designer – going all the way back to 1938! – makes sure the result will be first-rate. Pioneer automotive loudspeakers are engineered to meet many goals, but one above all: to reproduce music with the realism of the recorded performance through an uncompromising pursuit of maximum sound quality, and by taking full advantage of unique concepts and proprietary advanced technology. Sound is much more than just data, music also inspires every one of us and is indeed something most of us cannot live without. Pioneer is passionate about music and passionate about sound, this passion is exhibited in each product we create.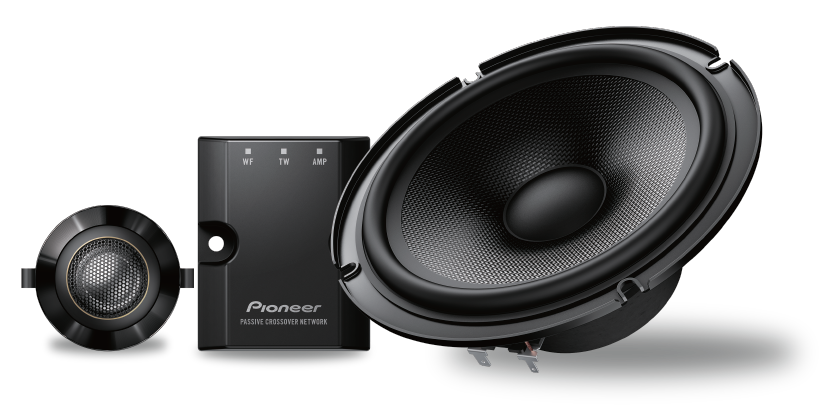 ---
Subwoofers
Adding a subwoofer to your system doesn't just result in more bass. It also brings deeper, more precise bass tones with more definition and detail to your music. This is why subwoofers improve the sound of any kind of music, be it club, electronic, pop, rock, jazz or even classical. Using the same technology that made its subwoofers SPL World Championship winners, Pioneer makes sure all of its subwoofers deliver exceptional power, slam and impact, including the very deepest of frequencies.
---
Amplifiers
It's the perfect companion for any car entertainment system. Adding one or more amplifiers makes sure you'll hear deeper and stronger bass, while your music sounds relaxed, highly detailed and pleasantly dynamic. Thanks to the smart design architecture, these amplifiers have a remarkably small footprint. Pioneer amplifiers are known for their first-rate sound and high SPL outputs, making them equally capable to power up the latest club tracks, as the full-scale dynamics of a symphonic orchestra.